A LYRIC MEMOIR
W.W. Norton & Company
Hardcover, May 15, 2018
128 pages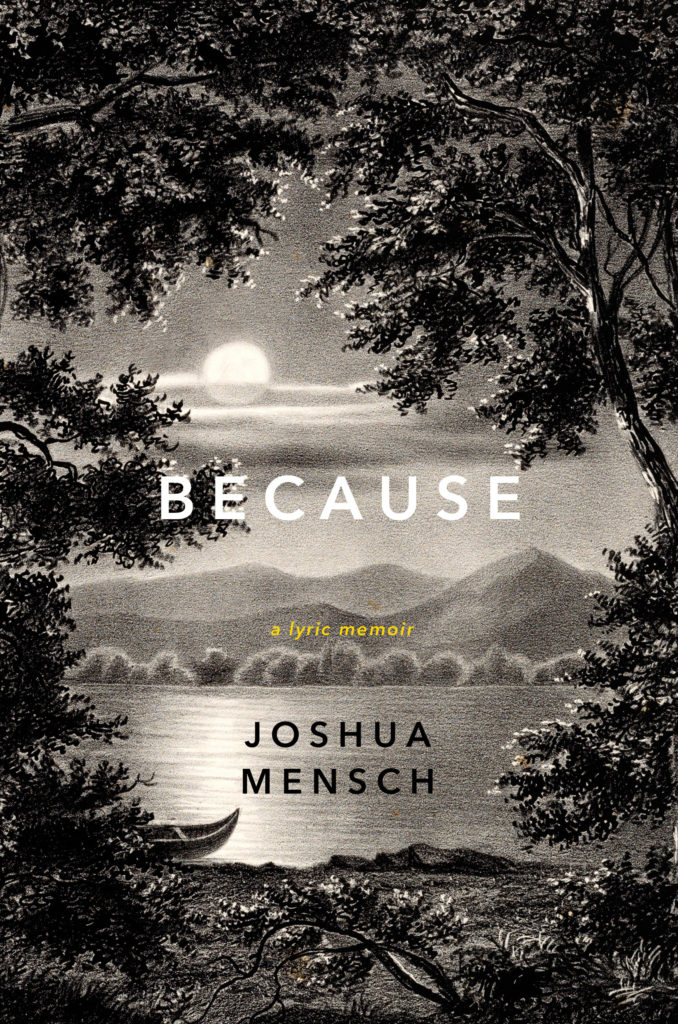 Joshua Mensch's devastating lyric memoir, BECAUSE, explores with extraordinary literary power and sophistication the toxic power of adults who prey on the children in their care. Unfolding through a series of precise, jewel-like scenes, BECAUSE renders the shifting and uncertain landscapes of childhood memory with vividness and precision. Its swift, convincing music, propelled by the powerful litany of the word "because," builds a heartbreaking tale of genuine power whose characters are as complex and fully realized as those in a novel. An unflinching take on the vulnerabilities and dangers of childhood, BECAUSE succumbs neither to self-pity nor platitudes, but instead finds consolation in the healing power of its own narrative act.
See what people are saying on Goodreads
Find a copy in a library!
Available from:
W.W. Norton
Amazon
Indiebound
Powell's
Barnes & Noble
Books-a-Million
McNally Robinson (Canada)
Chapters-Indigo (Canada)

"[Because] is a rare and remarkable text. Although it deals unswervingly with abuse, violations of trust and the deeply damaging effect of both of these, it is also literary, powerful and consoling … A deeply achieved record of human truth, earned at cost and beautifully expressed." — Eavan Boland
"This book tore me apart: it is riveting, beautiful, and quietly devastating. Mensch is a gifted and unflinching poet, and he has one hell of a story to tell." — Patrick Phillips, author of Blood at the Root and Elegy for a Broken Machine
"Unrelentingly obsessive … an achievement of sustained attention and imagination." — Michael Collier, author of Dark Wild Realm
"[A] disturbing, memorably and superbly handled book-length narrative poem … [Mensch] has an ear, he's thoughtful, he's subtle where subtle makes sense." — Stephanie Burt, author of The Poem Is You
"This deeply personal and profound poem may be the work of memory but its force is built from within our moment ― a force enhanced through a structure of anaphora and a percussive length of line that insists on being heard." — Stanley Plumly, author of Against Sunset
"[Because] is a memoir in flawless verse, and a masterpiece … Joshua Mensch has produced a small but monumental classic. … Because is a triumph. Let it be a bestseller for years to come. Let it be part of the permanent literary canon." —The Rumpus
"An almost unimaginably harrowing memoir in poems. … Mature teens may be enthralled as well as appalled by Mensch's ordeal when middle school was the worst his peers had to cope with." —Booklist
"A coming-of-age plus comeuppance, the story has a natural momentum, yet is enhanced by a unique presentation, as things unfold via two-and three-page bursts of what has to be termed poetry …" — The Brooklyn Rail
"[Because] is a courageous attempt at the very difficult form of the narrative in verse, and the challenge is redoubled by the painful subject matter. … Mensch's first volume should find an audience in recovery circles as well as among poetry readers." —Library Journal